Oneida
Shipwreck: #18888
Wreck Location: 42 13 .966 N 79 51 .583 W
Off North East, Pa.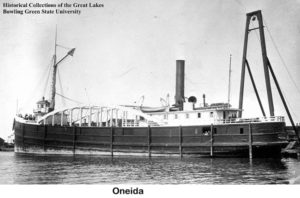 Ship Name:
Oneida
Type of Ship:
Wood Prop
Ship Owner:
Jas. Davidson Steamship Co.
West Bay, Mich.

Net Tonnage:
569

Year Built:
1862, Willam Crostwaite, Buffalo, N.Y.
Cause of Loss:
Fire
Ship Captain:
Thomas E. Black
Gross Tonnage:
887
Typical Cargo:
Lumber

Date of Loss:
Aug 20, 1893
Loss of Life:
0
The Shipwreck Today:
One of Erie's easiest wrecks to visit is the 200 foot (787 ton) wooden steamship Oneida. Oneida lies in approximately 5 feet of water near the beach west of Freeport where she was run aground while on fire on August 20, 1893. Official reports claim that the vessel's engine caught fire in mid lake near Ripley, after clearing the Buffalo harbor for Cleveland to pick up a load of lumber. Oneida had been completely refitted the year before after sinking at her berth in Buffalo in the winter of 1892. the owners shortened her decks, removed her distinctive hogging arches and reconfigured her as a lumber carrier. The overall appearance of the ship had changed dramatically from that of the prototypical package/passenger steamer, making her look more like a typical lumber hooker than a luxurious passenger ship.
The 1893 season was a bad year for shipping. Although many owners held their vessels out of service that season, Oneida pressed on. Her owner,
James Davidson, was apparently anxious to pay off his recent refitting investment. Oneida was the only one of Davidson's five vessel fleet to carry insurance. He claimed that he was simply trying to protect his recent investment, but he had previously boasted that his savings in not insuring his fleet allowed him to build a new ship every few years. The night of August 20th was uneventful. Winds were light and from the southwest. Captain Thomas Black reported that he and the crew were steaming west when they suddenly noticed fire and smoke pouring from the engine room. The crew immediately began to pump water down into the engine room in repeated attempts to put the flames out. However, in a little more than an hour, Black made the decision to give up attempts to extinguish the flames. He turned Oneida  toward shore and headed for the beach in an attempt to save the crew.
About two miles off shore, heat from the flames became so intense that the Captain ordered the crew of 13 men plus the female cook and her young son to abandon ship. All hands landed safely on the beach near North East in a lifeboat, as did Oneida  just a few hours later. The burning ship came aground and slowly burnt to the waterline. There were insinuations regarding the financial timeliness of the fire and subsequent insurance settlement of $27,000.
Oneida was not the only loss to fire that year. Insurance companies strongly hinted that the poor economy and temptation for many owners to find a way out of failing businesses may have led to some mischief aboard insured ships. The remains of the Oneida, while in an easily accessible location and well known to many locals, include several major engine and boiler parts lying in a field of mostly buried hall rubble.
(Home Port Erie, Robert J. Mc Donald and David Frew)
Newspaper Headlines: