Patapsco
Wreck Location: 42.13138, -80.1516
West side of Presque Isle, 5.8 miles at 50 T from Walnut creek, Pennsylvania entrance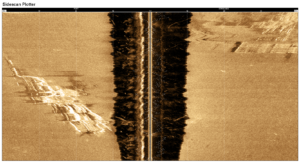 Ship Name:
Patapsco
Type of Ship:
Dredge Barge
Ship Owner:
Arundel & Monkers Construction Company
Baltimore, Maryland

Net Tonnage:
292

Year Built:
1901 at Port Richond, N.Y.
Cause of Loss:
Sprung a leak
Ship Size:
80′ x 28′ x 7.1′
Gross Tonnage:
2304
Typical Cargo:
Coal

Date of Loss:
Friday, June 27, 1930
The Story of the Loss
The Patapsco was built for the B & O Railroad Company, and her first home port was Baltimore, Maryland. In the early 1930's, the Sommerheim Water Intake was built west of the Presque Isle Peninsula to supply water to the City of Erie, Pennsylvania. The Patapsco was working on the project when she went to the bottom. The March 1931 Marine Review reported that a boiler and some of her mechanicals were salvaged shortly after her loss.
1. Wachter, Georgann & Michael. 2003. ERIE WRECKS EAST, 2nd edition. Portland/Impact, Avon Lake Ohio.