S.K. Martin
Shipwreck: #126125
Wreck Location: 42 14.456N, 79 56.004W
Off 12 Mile Creek near North East in approximately 60 feet of water.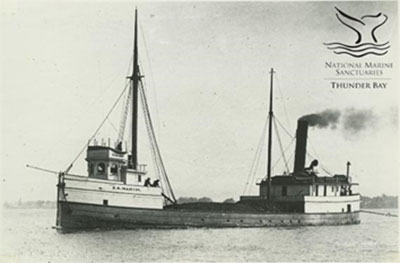 Ship Name:
Martin, S.K. (Renamed 1888)
Type of Ship:
Wooden Steam Screw
Ship Owner:
William J. Jock et al
Marine City, Mi.

Net Tonnage:
240.56

Year Built:
1883 at Benton Harbor, Mich.
Cause of Loss:
Foundered, boiler blew up
Also Known As:
City of St. Joseph (Built as)

Ship Size:
152.0 Ft x 28.0 Ft. x 11.0 Ft.
Gross Tonnage:
302.61
Typical Cargo:
Coal

Date of Loss:
Oct 12, 1912
Loss of Life:
0
The Shipwreck Today:
Steam screw S.K. MARTIN. U. S. No. 126125. Of 302 tons gross. Built 1883. On 12, 1912, vessel foundered near Erie, Pa., with 12 persons on board. No lives were lost. Loss Reported of American Vessel List, U.S., 1913. Steam screw S.K. MARTIN.* U.S. No. 126125. Of 302.61 tons gross; 240.56 tons net. Built 1883 at Benton Harbor, Mich. Home port, Chicago, Ill. 152.0 x 28.0 x 11.0
* formerly steam screw CITY OF St. JOSEPH. Merchant Vessel List, U.S., 1889 (ref Jerry Skrypzak articles)
Interesting Facts:
Captain W.J. Jock had a reputation for being a bad luck skipper. Prior to the 1912 season, he had been involved in four shipwrecks including Ivey (in 1884), Florence (in 1887), Metapole (in 1889) and Ketcham (in 1908). To make matters worse, Jock's dog died just before he departed the Buffalo harbor on October 12, 1912. Jock's ship, S.K. Martin, was a 152 foot wooden steamer with a cargo of coal. The little ship was rated at 240 gross tons. Near Dunkirk, the previously moderate winds began to howl. Within hours, the wind was blowing at 50 miles per hour from the southwest. Jock slowed the ship and concentrated on keeping her bow to the breaking waves. The crew reported that by the time the ship was passing the state line they could see monstrous waves breaking onto the near shore cliffs.
An hour later, S.K. Martin was literally standing still in the water, making no progress against the waves. Winds had reached intensities of 60 miles per hour and 50 foot waves were reported near Buffalo. Somewhere near 12 Mile Creek, S.K. Martin engines went out and within minutes it became obvious that she was taking on water so fast that she was in trouble. The crew fought to save the ship for almost 30 minutes.
They dropped both anchors and began pumping ferociously. But the anchors had an adverse effect. As waves broke over the ship, the anchors would alternatively dig in, increasing the amount of water the Martin was taking on. In desperation, the crew cut both anchors but the ship continued to founder in the huge waves. Captain Jock ordered the the crew of 10 and his son to the lifeboat. Within moments after the Captain rowed away from the S.K. Martin, cold water settled around the red hot boiler and there was an explosion. Compressed air blew the wheelhouse and forward cabin into the air. But the more pressing problem for the crew was keeping the 18 foot life boat afloat and heading for shore.The yawl had several leaks and the crew was busy trying to plug them with torn bits of clothing.
The ferocious storm attracted local attention. Several lake shore farmers had taken time to walk the cliffs to watch the building waves. Most had spotted the Martin and gradually a vigil began with interested individuals checking to watch her progress. When the crew to the lifeboat, Frank Shadduck, a local farmer, called a friend and his son-in-law and rushed to the beach where he anticipated the lifeboat landing. They arrived at the lowlands at Custard Farm Beach just as the bedraggled crew was washing up on the rocks well off shore. Shadduck became a hero that day as he swam to the boat with a rope and assisted the Captain and the crew to shore.
S.K. Martin sank in about 60 feet of water where she sat for a few years with with her main mast protruding above the surface. She remains in the same position today, a favorite target for divers. Her hull is nearly intact, although ice has damaged her top structure and carried her mast away.
(Ref. Home Port Erie, Robert J. Macdonald and David Frew)
Sidescan Sonar Images
 Newspaper Headlines