School Districts
Located on the shores of Lake Erie at Presque Isle State Park, the RSC is housed in the research wing of the Tom Ridge Environmental Center offering numerous research and educational opportunities. RSC Members from K-12 school districts have opportunities to set up research experiments, field/laboratory experiences with scientists, and special programs for Gifted Student groups. Opportunities for K-12 students and teachers include lab experiences during field trips, job shadowing a scientist, Enviro Camp, gifted student group field trips, edible school yards, internships, service learning, individual research projects, and summer workshops and courses. Click the links to learn how to get involved and view photos of previous events.
Not a member yet? Click here to learn how your school can become a member, or contact us today!
Save the Date for these upcoming RSC events which benefit K-12 students!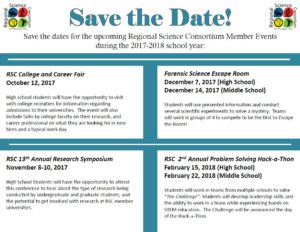 RSC College and Career Fair:
High school students will have the opportunity to visit with college recruiters for information regarding admissions to their universities. The event will also include talks by college faculty on their research, and career professionals on what they are looking for in new hires and a typical work day.
RSC 13th Annual Symposium:
High school students will have the opportunity to attend this conference to hear about the types of research being conducted by undergraduate and graduate students, and the potential to get involved with research at RSC member universities.
Forensic Science Escape Room:
Students will use presented information and conduct scientific experiments to solve a mystery. Teams will work in groups of 4 to compete to be the first to Escape the Room!
December 7 (high school), 14 (middle school), 2017
RSC 2nd Annual Problem Solving Hack-a-Thon:
Students will work in teams from multiple schools to solve "The Challenge." Students will develop leadership skills and the ability to work in a team while experiencing hands on STEM education. The Challenge will be announced the day of the Hack-a-Thon.
February 15 (high school), February 22 (middle school), 2018
Information and photos from the 2017 Hack-a-Thon held by the RSC can be found here!