Nearshore Buoy System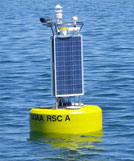 Monitoring Weather, Water, and Wave Conditions on Lake Erie with a Coastal Storms Nearshore Buoy System.
The RSC is responsible for the operation and maintenance of the Lake Erie Nearshore Buoy. This weather, water, wave buoy system measures parameters in real-time and posts the data to www.PALakeErieBuoy.com.
Help support the Nearshore Buoy System: