RSC Internships
There are many internship opportunities for high school and college students at the RSC. Student have the opportunity to participate in ongoing research projects which give them field and laboratory experience. These experiences will set high school students apart from their peers when applying for college programs, and college students will receive hands-on experience that will make them more qualified candidates when looking for jobs after graduation.
Sean Dalton (below), Senior at Allegheny College, completed a summer internship at the RSC in 2014, 2015, and 2106. Sean studied long shore drift of sand and the impacts of erosion on Presque Isle State Park for his senior thesis. His work has directly benefitted the RSC and many other stakeholders to the park. We look forward to seeing him back in our laboratories in 2017!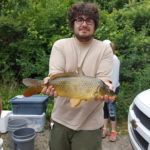 Julia Guerrein (below), Sophomore at Penn State Behrend, completed a summer internship at the RSC in 2015 and 2016. During her time at the RSC, she completed a pollinator inventory project. We are looking forward to having her back in 2017!